In this week's blog, we're discussing navigating the replacement of batteries in your boat. We'll cover marine BCI battery group sizes, types of marine batteries, and several common marine battery configurations. When selecting new batteries, however, the first step is to size your battery bank according to your needs. Generally, to get the same runtime as a wet or AGM lead-acid battery, use a lithium battery that is 60% of the capacity of the lead-acid battery you are replacing. More information on how to tailor the size of your battery bank to your capacity requirements can be found here.
BCI Battery Group Sizes
We'll start with a quick history lesson on what Battery Council International (BCI) is, what BCI group sizes entail, and how RELiON Lithium batteries fit within the BCI sizing scheme. BCI is a non-profit trade association that was developed in the 1920's to promote the interests of the lead-acid battery industry (1). Through the years, BCI has developed technical standards that include size groups for common battery applications. To make them true drop-in replacements, we have sized our lithium batteries according to standard lead-acid group sizes.
Although the BCI group size range is quite broad, including passenger car, electric vehicle, and commercial batteries, today we'll focus on sizes commonly used in marine applications. These include batteries that fall into Group 24, Group 27, Group 31, and 8D. BCI created group sizes to communicate a general standard for the maximum overall dimensions of a battery. Because equipment manufacturers try to minimize battery storage space, these group sizes define general battery dimension. Typically, the larger the group size, the larger the overall dimensions (and capacity) of the battery.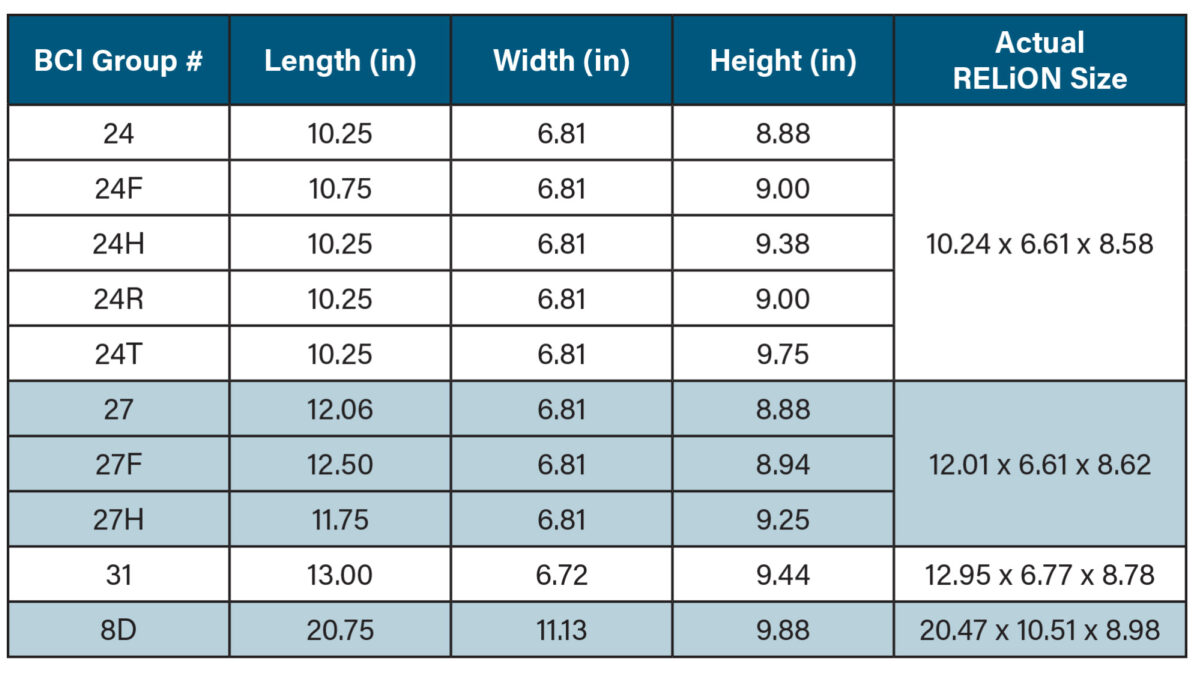 As you can see from the above comparison chart, RELiON batteries were designed to fit within all the subgroup sizes of the greater BCI groups. For example, you can see that the actual size of the RELiON Group 24 is 10.24 x 6.61 x 8.58 and is slightly smaller than all the subgroup dimensions. So, when you look in your watercraft battery compartment and see 24F, 24T, or any other Group 24 battery you can rest assured that the RELiON Group 24 will fit within your previous battery's footprint. The same holds true for the Group 27, 31, and 8D.

Types of Marine Batteries
Marine batteries come in three main types that include deep cycle, starting, and dual-purpose. Deep cycle batteries are designed to provide continuous power for long periods. Deep cycle batteries are used to power house loads that commonly include navigation aids, fish finders, running lights, radios, and trolling motors. Conversely, starting batteries provide a short high current burst to crank an engine. Lastly there are dual purpose batteries that can perform both deep cycle and cranking duties. Lithium marine batteries are a more powerful and lightweight option for your boat. The RELiON HP line (RB100-HP and RB300-HP included in the size chart below) are dual purpose models capable of providing up to 800 amps for two seconds to start your boats motor.
Marine Battery Group Size Chart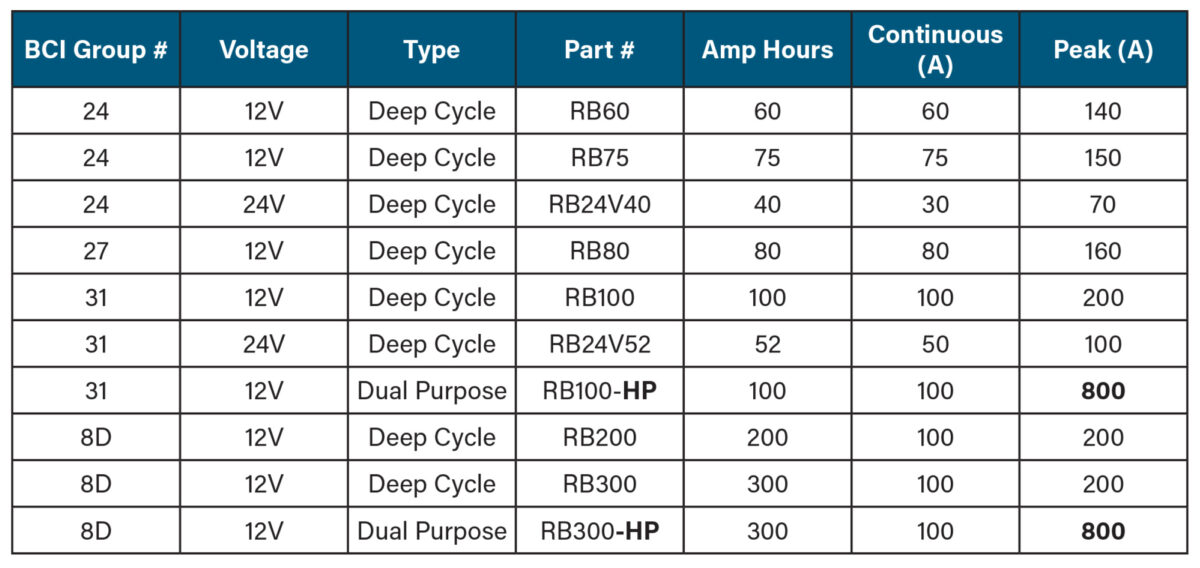 Common Trolling Motor Battery Configurations
Marine electrical systems are commonly set up in 12, 24, or 36 volts depending on the size of the watercraft and its trolling motor. If you have calculated your power needs as we referenced at the beginning of this blog, you can achieve the voltage and capacity your setup requires. If you have a 12-Volt trolling motor, you can choose from the 12V options that will suit your capacity requirements. If you have a 24-Volt trolling motor, you can use two, 12-Volt batteries in series with a multi-bank charger or multiple 24-Volt batteries in parallel to meet your capacity requirements. If you have a 36-Volt trolling motor you can use three, 12-Volt batteries in series with a multi-bank charger. We also have a diagram that can be used to help wire your 36V system with a HP battery for cranking.
36V Trolling Motor Wiring Diagram: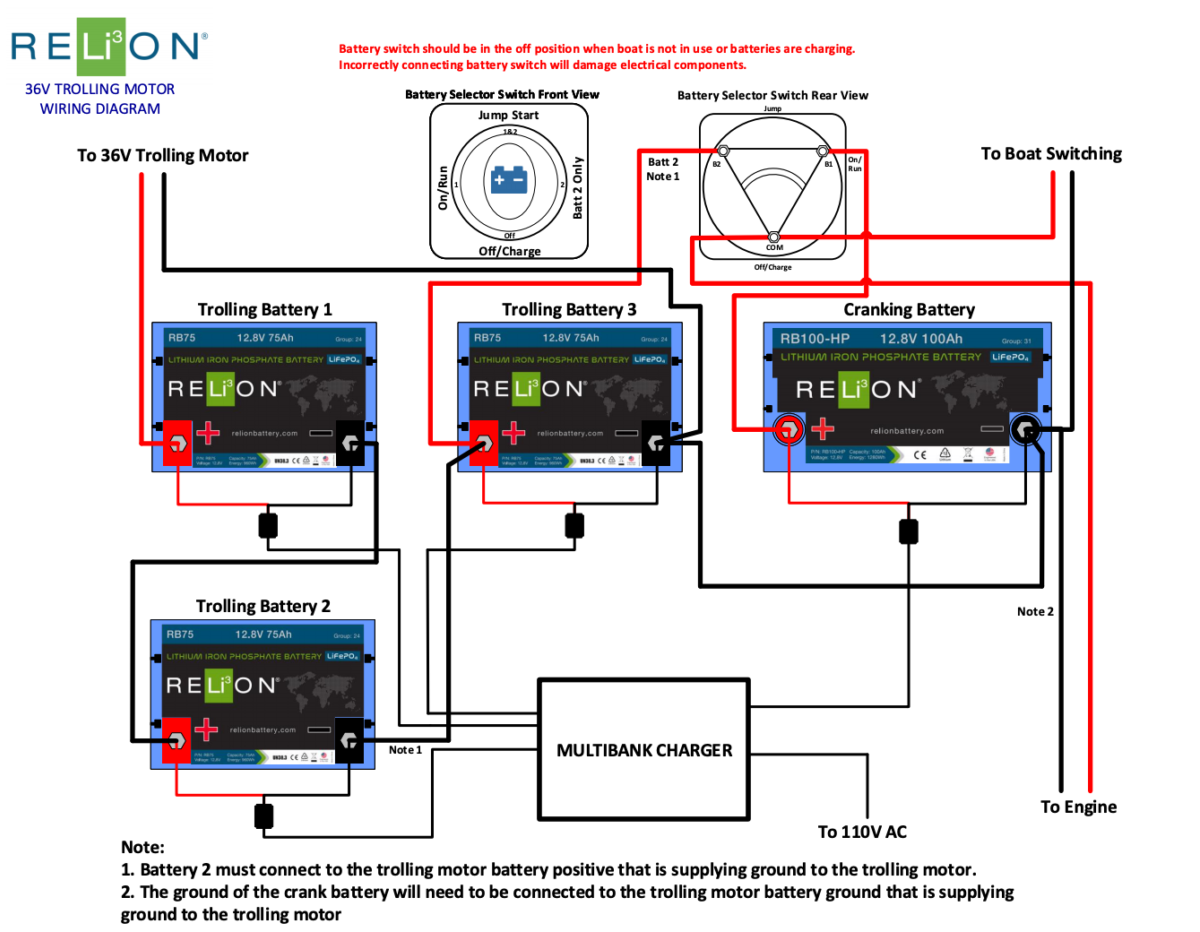 If you need help determining suitable replacement batteries for your vessel or have any other questions, please contact us for more information.
---
About the Author: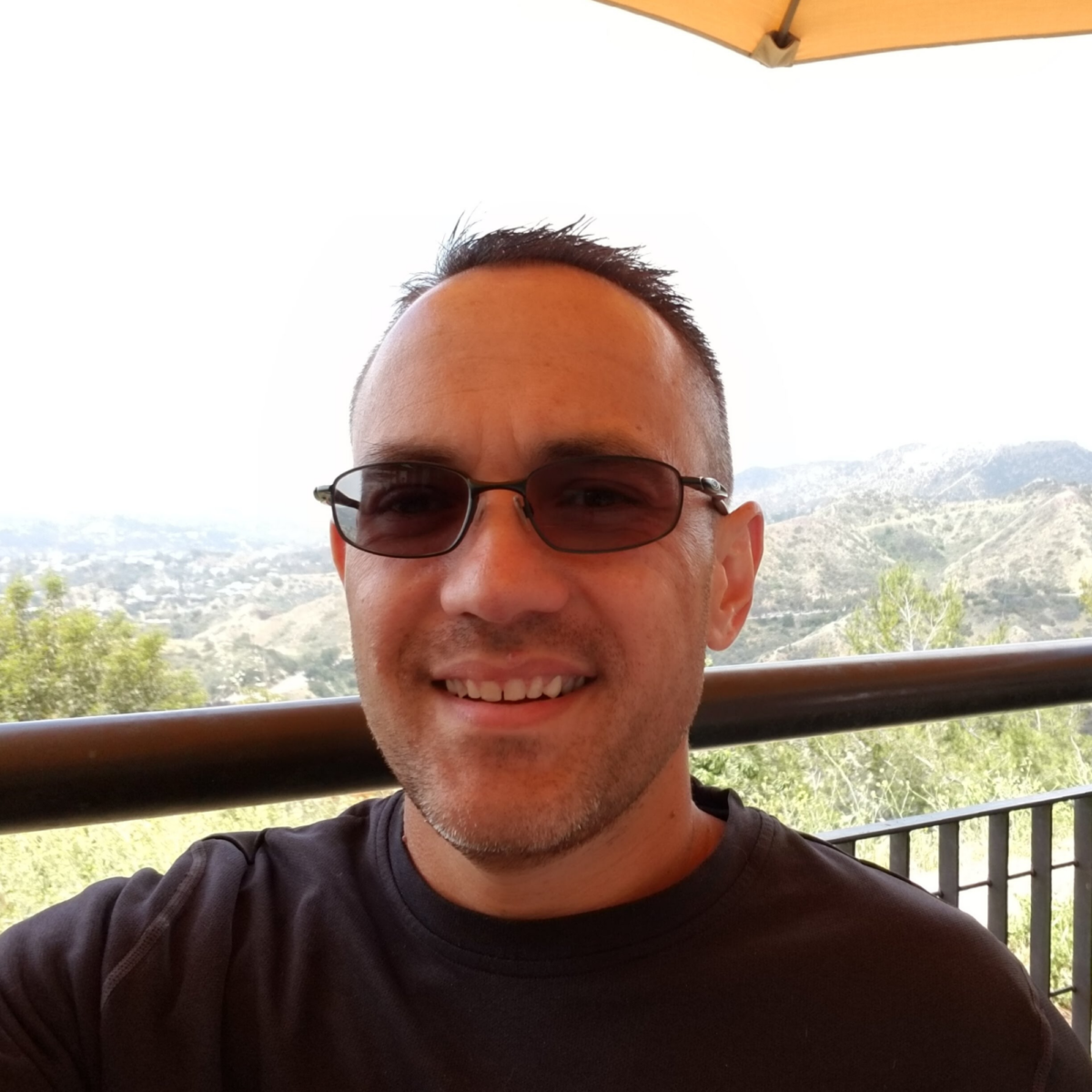 Chi Woodruff is a Sr. Product Manager at RELiON Battery. Chi's experience includes product management in distribution and manufacturing industries along with a history of analysis, product launches, rebranding and life-cycle management in the battery industry. In his free time, Chi is an avid runner and pacer at many races in Southern California. Keep up with Chi on LinkedIn here.