Over a million Americans and a growing number of Europeans now live out of recreational vehicles full-time, many of whom are seeking greater flexibility, independence and a minimalist lifestyle. An increasing number of people are opting for overland vehicles in particular, since they're smaller and better able to reach remote destinations than a traditional motorhome, but more spacious than a van. Fabian and Isabela are two such overlanders that chose to challenge the status quo several years ago and haven't looked back.
Fabian, a German resident at the time, met his Brazilian girlfriend, Isabela, while they were traveling in Spain. Only a few years into their full-time office jobs, Fabian and Isabela grew tired of their mundane lifestyles, lack of control over their schedules, and inability to explore the world however and whenever they wanted. In 2017, they decided to quit their jobs together to travel and live off grid out of their solar-plus-storage powered Mercedes 4x4 overland truck.
Prior to departing on their journey, these newfound digital nomads formed the social enterprise LiveandGive4x4, which has enabled them to fulfill their dreams of both traveling the world full-time as well as giving back to society. So far, they've explored two continents and have been contributing to orphanages throughout Latin America over the past three years.
We chatted with Fabian and Isabela about what motivated them to take the plunge into full-time off grid overland vehicle living, their travels thus far, their social enterprise, their robust 'expeditionary' truck, as well as what it was like to make the switch to lithium batteries.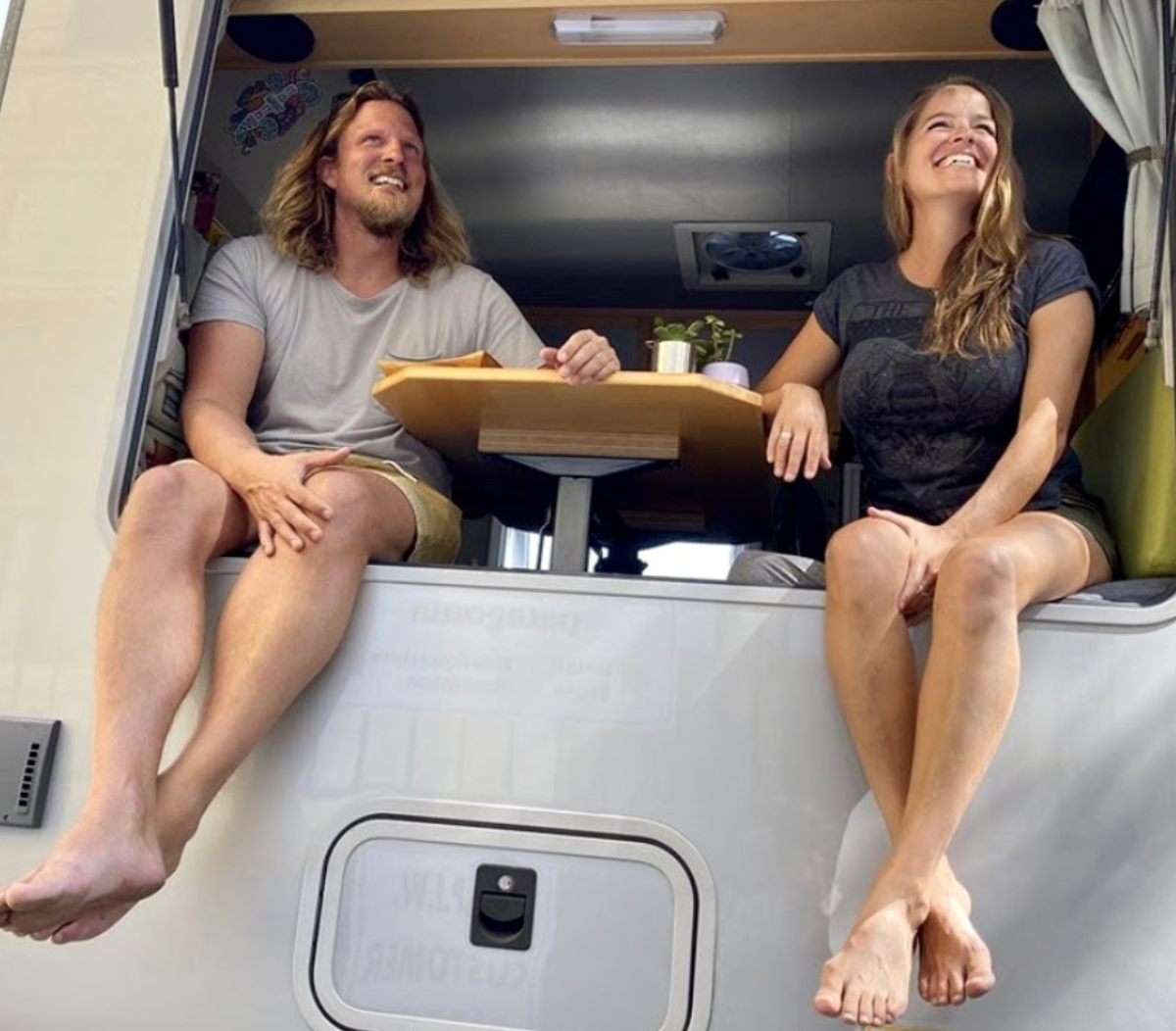 Why did you decide to live off grid full-time in your overland truck?

Fabian: "We realized that all we truly need is food on the table and our health. We wanted to escape the hamster wheel that is the 9 to 5 office job and do what we love in the most stunning places on the planet, free of unnecessary schedule constraints. I also get to spend lots of time with my girlfriend, who I love."
What motivates you?
Fabian: "Gorgeous destinations, but most importantly, people. The people we've met and continue to meet on our travels are really what make it all worthwhile. I can't tell you how many people have taken us into their homes for a meal and shown us the utmost hospitality. Additionally, we're driven by the desire for more freedom and independence than we were getting through our routine lifestyles in Germany."
Where have you traveled so far?
Fabian: "Over the past three years we've traveled in our 4x4 throughout Europe, Canada - from the east to the west coast, every U.S. state except for two, and Mexico. We've done and seen everything from ice fishing in Newfoundland to hiking in Yellowstone National Park to paddle boarding in Baja California, Mexico, which has been our favorite destination."
Why did you decide to incorporate giving back into your business?
Fabian: "We feel it's always important to pay it forward. We've met so many amazing people throughout our journeys and the least we can do is give back and keep the good karma flowing. We've been contributing to orphanages, primarily in Mexico, and have actually been able to expand contributions through our partners, who have also agreed to pay a certain percentage of profits toward our supported orphanages. We've also been renting our house in Germany to the government who then rents it to Syrian refugees."
What do you love most about your overland truck?
Fabian: "It's basically a house on wheels. We have two refrigerators, a robust water filtration system and air conditioning. It fits a surfboard, two paddle boards, a dirt bike, my girlfriend, myself and our two dogs. We haven't had to compromise much at all. Also, the four wheel drive of course allows us to go anywhere we want."
What was your biggest fear before using lithium batteries and did it come true?
Fabian: "Honestly, we've heard all of the horror stories about lithium batteries burning and we haven't experienced any of them. The technology is just so advanced now, especially with batteries like RELiON's, which use the absolute safest battery chemistry, lithium iron phosphate, which isn't prone to thermal runaway or fire like other lithium battery chemistries. We've been extremely happy with our RELiON system, as it's safe and reliable, which is particularly important since we sleep and live so close to the batteries in our truck every day."
How has your RELiON battery system helped you while out on the road?
Fabian: "We're just much more free now that we have our two RELiON RB200 batteries than when we had to use our lead acid batteries, which were extremely heavy, took up far more space and died after just three years. These 12V 200Ah batteries are a perfect replacement for our old lead-acid battery bank and provide robust power in a small setup. Now we don't have to constantly be thinking about recharging the batteries anymore, which directly translates into less stress as well as more time at beautiful destinations. Our RELiON system has truly been life changing. We also are able to run a lot more equipment at once without worrying about using too much energy or draining the system. This is significant as we're always needing to film and edit our YouTube videos for our business, in addition to living our lives - cooking, keeping food cold, taking showers, and so forth."
Now that they've made the switch to their reliable, compact and high power RELiON battery bank, Fabian and Isabella finally feel empowered to embark on their biggest journey yet: South America. Never again will they have to worry about whether their lead acid battery bank will be able to hold them over, as they can now live each day to the fullest and with peace of mind.
To follow Fabian & Isabella's journey, check out Live and Give 4x4 on Instagram here and on YouTube here.